niet normaal*: a queer feminist collective bringing politics into party
Switching on the lights at 5 am in EKKO after partying all night long, demonstrating in the streets for women's rights nine hours later. niet normaal* strive to create a safe partying space for the people who are often excluded and harassed, while never letting their activist roots fade into the background. On the verge of new beginnings, we have a chat with niet normaal*-initiators Marianna and Ying to catch up on their plans with a former exhibition space of Moira, the origins of their queer party, the ongoing collaboration with EKKO and hosting one of the last dutch pre-lockdown parties of 2020.
Words: Dave Coenen
Images: Private collection of niet normaal*
Not knowing they would not enter the doors of EKKO again for over 15 months, Marianna Takou and Ying Que, organizers of the niet normaal* parties in our building, recollect being light about a possible impending pandemic while ordering drinks at their Witch You Were Queer night, march 6, 2020.
Marianna: "I remember one of us was feeling a bit sick. I made fun of her and told her to soothe that sore throat with a glass of whiskey."
Ying: "Well, it was four in the morning around that moment, and she was still there!"
Marianna: "One month later, when everything was solidly locked down in The Netherlands, we were looking at that nocturnal moment in hindsight. So many people reached out to us in those weeks, telling us Witch You Were Queer was their last clubbing experience before lockdown happened. The weight of that night grew bigger and bigger as a summer of closed venues and nightclubs passed by."
Ying: "I can't wait to go again, though. I crave a party!"
Marianna: "Well... Maybe we should just quit at our high point and never have one anymore, because this one was so special!"
"The weight of that [Witch You Were Queer] night grew bigger as a summer of closed venues and nightclubs passed by."
A promise the collective probably won't keep, since they had their next event already scheduled on International Women's Day, just hours after the music stopped at their party in EKKO.
niet normaal* are a queer feminist collective with roots in activism. Not only do they create a space where the organisers and their community can party and learn about partying in safety; nn* also take their fight for the rights of LGBTQI* (although not exclusively) people to the streets frequently, joined by an ever-growing community within Utrecht. This combination of politics and party is something you won't encounter quite this explicitly and often in nightlife, but niet normaal* expose the inevitable link between the cultural and political in the way the collective originates, how it "recruits" new members and how it finds its line-ups and collaborators.
Ying: "Oof, a history! Where do we start?"
Marianna: "Well, we're discussing our roots more often lately, because we're thinking about this [exhibition] space [in Moira] and how to use it. Moving in here makes for a great moment to reflect on who we are as a collective and how we will arrange this physical space we got our hands on recently. Before the niet normaal* parties saw light at EKKO, we were already organizing political events individually or under the moniker of other collectives."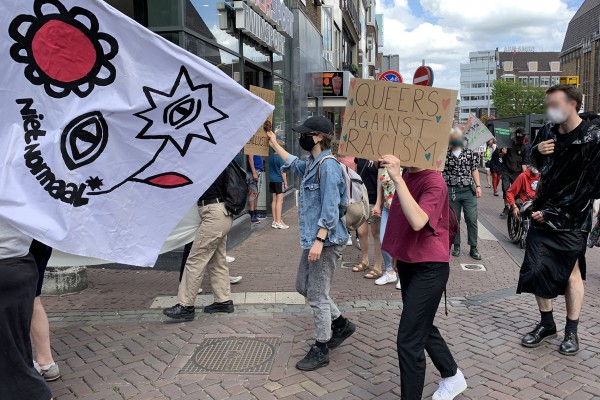 About the asterisk (*), Marianna tells us: "Back in 2016-17, I was doing kitchen shifts in this restaurant, where i noticed people using 'niet normaal' as an expression to describe things that are considered as not acceptable behavior and it was striking to me how it came to be - using this expression - like, how it is so widely used in such an in your face, such a literal way, and how this reinforces normative structures. Later that year, there was a speech by demissionary prime minister Mark Rutte and he said refugees and migrants should integrate or leave. He literally said: 'doe normaal of ga weg'.
The asterisk means that we are reclaiming the word, because it holds a bad connotation with the majority of people and what is normal is usually very confining and oppressive , so we are proud not to be normal. In general the asterisk is a symbol used to refer to other things, to explain notions, for us is more about embracing fluidity and leaving it open for other possible trajectories and ways to be, while it's also a bit obscure, we value the right to opacity, you can see it also in our party calls, that they sometimes read as an inside joke… Not everyone needs to understand us."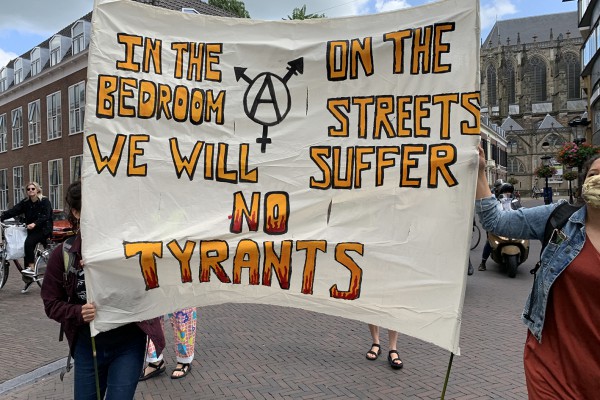 Ying: "Most of all, we're friends. We've known each other a long time. We used to live together, and we used to organize together as activists for the feminist and anti-racist movement. From there, at some point, the party that we all used to go to, stopped happening. Two years later, we decided that we should bring back a queer party to Utrecht. At that time, EKKO had Club Rits, a gay party. Next to that, there was Cruise Control at ACU, another queer party - but just like Club Rits, mostly gay-oriented. We wanted a space for the FLINT (Female Lesbian Intersex Non-binary and Trans) communities, which are mostly around us. At that time I was bartending at EKKO, and I told the people there I was sad my lesbian friends didn't want to come hang out there. That's when club promoter Matthijs Mom asked me if we wanted to do a party. So, this is how we came into being as niet normaal*."
Marianna: "It was also about this lack of a space that was open and creative enough to organise something."
Ying: "A safer space."
Marianna: "Safer than those around us, yes. We were frequents at gay parties and bars, and we have been since young age. But there is no space in the city that is kind of… really open and welcoming. Even if you see spaces that are leftist, squats, or whatever on paper, there is always some kind of issue because of the different energies that occupy the space and how the people active in it hold it together."
Ying: "Most spaces are still dominated by toxic masculinity. I think that's a problem for nightlife in general. Nowadays, we're talking a little bit more about sexual harassment in nightlife because of #MeToo. But yeah, it's not an easy task to hold a safe space in nightlife. With niet normaal*, we wanted to try what it means to have an inclusive space. This was also really something that EKKO wanted: everyone in their target audience should be welcome. That's something we've been juggling, because for us, it would be safer if we would say: no cis white men inside or, you know, even no white people. After a lot of negotiation, we decided we would train with niet normaal* to make the party as inclusive as possible while sticking to our own principles. So we created these house rules, our manifesto, which is called the party praxis. This praxis states who we are and what we want for a night to happen. About these rules, we have always been in negotiation with EKKO, because we have to learn from each other. We explain our communities' experiences, translate them into the party praxis and try to - you know, when things happen that cross these rules - have a conversation, provide feedback and do better."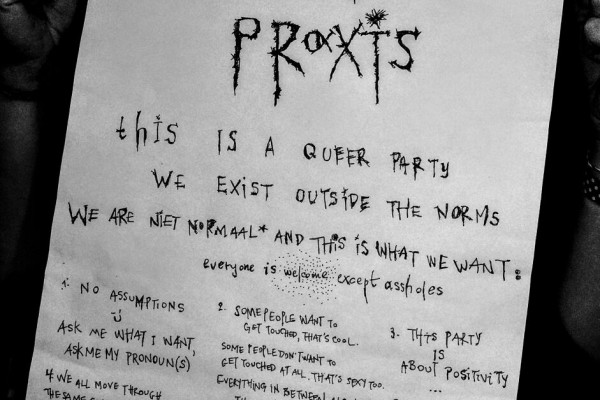 Starting out as a group of friends, mutuals and friends of friends ended up joining niet normaal* gradually. After years of building and maintaining community, niet normaal* find their new members by noticing familiar faces that are around quite often at different places. Ying explains the growth the niet normaal* crew has experienced over the last three to four years:
Ying: "In the last few years, we noticed the same people going to our parties, showing up to the demos and being present at demonstrations by other organizations. For us, that's the sign we wanna talk to you and ask you if you want to help us out organizing. Partly because of this, the pool of volunteers has been solid over the years."
Marianna: "Again, it's our friends, basically. Sometimes it's new people, but mostly they're friends of friends of friends. The strength of the bonds in our community is one of our most valuable key points."
"Every single night we hosted, we had to communicate our praxis to newcomers. Which was usually fun, sometimes frustrating, and occasionally tiring, but all of this is part of the process."
Ying: "Because in friendships, there's a basic trust. You don't have to explain certain things. You know, that you're aligned in the ways you think, in how you talk to people. I'm grateful for that."
With these additional rules stacked upon the already existing house rules of niet normaal*s home base, it's not always been an easy job to tell people who don't or won't fit in the atmosphere and principles of the party to go elsewhere.
Marianna: "Some people were really resistant. The interesting part is that EKKO in some way has its own regular audience. On Thursday you have the hipsters, on friday you have the hardcore clubbers, something like that. So at the door of niet normaal*, a mix of all this regular EKKO audience had to be introduced to what was happening inside: every single night we hosted, we had to communicate our praxis to newcomers. Which was usually fun, sometimes frustrating, and occasionally tiring, but all of this is part of the process, I guess. Inclusivity and exclusivity require compromising from both sides."
Marianna: "On our part, we understand that EKKO is a "stichting"; it's a place where you can not just say "no" to people without any valid reason."
Ying: "Or reasons that they don't understand. If you're a person that fits and operates within normative social and societal structures, your heart can, of course, be good. There's no assumption from our side about you being a homophobic, racist asshole when we say "no" at the door. But the thing is, there are certain ways of behavior that are internalised in how we grow up and what we are taught and what we consume from the media, you know. So when we encounter micro-aggressions, that's the point where we have to hold our own. Often we "fight" at the door, for example when we tell a group of already drunk and rowdy frat boys that we're a lesbian party, so maybe it's not their kind of party. Then they on their part get upset: "oh, you think you can read me, now you are discriminating against ME?!" We have to have this negotiation, this ever-going conversation to do the education. And it's always very personal."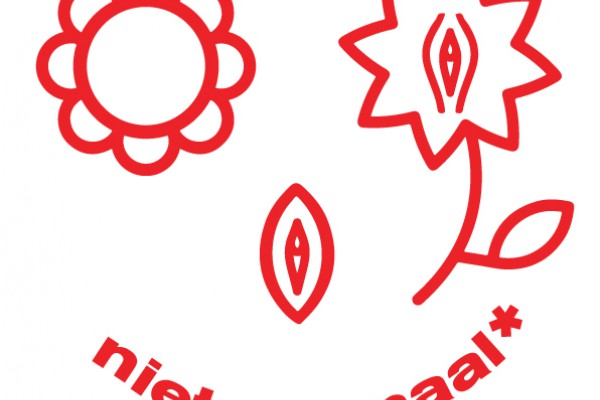 With the idea solidified, all rules constructed and the activist core never neglected, the only thing missing prior to the niet normaal* parties has been the bridge over the gap between form and content. That's where former EKKO booker Lisa Molle, also a resident dj at niet normaal* under the moniker LaToya, came into picture.
Ying: "When we started out with niet normaal*, Lisa actually just entered the EKKO office. She and I got along well, and I really liked her taste in music. With niet normaal* we wanted to offer something different from what the gay clubs would offer at the time. So yeah, Lisa helped us think about musical lines."
"Our ecosystem as a collective consists of many artists: deejays, performers, and many more. We move in different marginalized communities who have been invisible in Dutch society: I'm talking about the queers, the anarchists, the immigrants or people that are in the process of getting asylum, for example. So, we also wanted to create space for them at our parties, next to the bigger names. This also means we house a wide range of musical styles. Hiphop, techno and vogue, with Middle-Eastern, Latin, African and Indian influences- music from all kinds of friends that know how to keep us dancing. EKKO was generous with providing us fees for all artists, so we could pay an appropriate rate. Usually, this is a big problem in our DIY-scene, because there barely is any money involved, while actually you should just pay your artists for their work. EKKO made this possible, that was really amazing."
"A queer group that doesn't want to organize for pride?! That must be a very strange group to an outsider, haha!"
niet normaal* stick to a thematic concept: every night is constructed and curated within the framework of a specific topic, linking demonstration and/or fundraiser to the specific date and content of the particular event.
Marianna: "From the beginning, the themes of our nights changed every time a party happened. The first party was really just about our community and the dj's from our inner circle - giving them the space to play with professional equipment in a club. The themes of the following parties had to do with the music itself sometimes, while other times it had to do with the conditions/circumstances in the world, country or city. So some parties were close to dates that are important for the feminist movement, like march 8. We always pick dates that are meaningful to us or dates providing a public gathering moment. We also hosted a Pride afterparty once, because EKKO asked us to organise something. But we were very hesitant about that beforehand."
Ying: "A queer group that doesn't want to organize for pride?! That must be a very strange group to an outsider, haha! The thing is: we know the hard work that has to be done there. We have our own ideas about how problematic the canal prides can be. We, ourselves, are usually involved in bringing critical interventions to the actual pride celebrations. To organise a party for pride is something very commercial to us, because everybody will come. That night, we sold out twice, maybe three times! People just kept going in and out. I went nuts!"
Marianna: "Me too! I was at the door for the whole night. I never actually went inside to the party."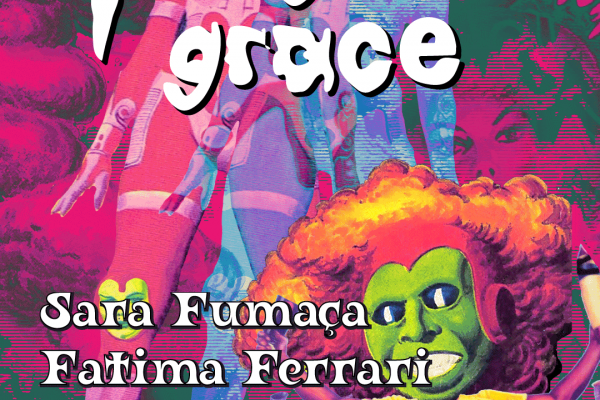 Design: Natasha Tontey

But even though the creative freedom and room for (bigger) experimentation niet normaal* get eventually, the nights still need a bridge between their own vision and musical direction.
Ying: "Lisa brought a balance to that. For that [Pride] night she set up a collaboration with Axmed Amiin Maxamed from Dance With Pride. Axmed is an amazing activist and knows his history in queer club music culture. That's something we definitely lack as event organisers. Marianna and I come to party organising with the premise of community building. Our musical references still have to develop. Ofcourse we have our own tastes, but… yeah. The most important curatorial direction for us is to book people of colour and femmes. There's not enough women and queer people taking the stage in this day and age. So we really want to push that as a community platform and club night."
Marianna: "It wasn't just a rule we decided on, it was an organic process. These are the people we connect with and want to work with."
"We can have the danceable sound of now, but what about the noise or the heritage of sound?"
The connection with Dance With Pride being a prime example, niet normaal* want to burst their own little bubble and strive to get inspired by other collectives and spaces, while also hoping to inspire others on their part.
Marianna: "Pon di Pride, Vrankrijk... What they're doing in Amsterdam is great work. Really everyone, every city in the queer scene has different entry points. You can really see that if you map it out. I think we as niet normaal* are the biggest outsiders when it comes to nightlife. We enter from cultural and activist territories, not from music industry or performance art. For us it's more about the party, the gathering itself."
Ying: "But we can say we've come a long way. We had our own little journey with nn*, also musically. For us, our community is very specific in what they want to dance to, and they aren't always happy with our musical choices, but it's also important for us to look into the future and to steer what kind of direction we should be going into. We can have the danceable sound, but what about the noise or the heritage of sound?"
Ying: "In the years after our party saw the light, Queer In Wonderland and Dungeons & Drag Queens started to happen. I want to give a shout-out to Irene Cassarini [founder of Queer In Wonderland]: she really paved the way in Utrecht for the more experimental direction in queer clubbing, a direction that has a political ground beyond identity."
Marianna: "I also have to give big credit to the consistency on the part of EKKO. They give us space for experimentation and opened the cracks for a new party approach for our community. It hopefully contributed to all these newer cool parties popping up."

Next to looking for new musical direction and a never-ceasing intention to keep the spirit of nn* in motion, lockdown year 2020 made holding up a physical safe space for the Utrecht queer community harder. How have nn* mobilised their community over the last year?
Ying: "Before 2020, we had our parties and did our activist work elsewhere, under other names. But what started happening in the past year is that we used our platform to spread the word - talking about what was actually happening around us. So, in a way we showed our 'true colours'. Before march 2020, it was only the fun party content. When the pandemic happened, we resorted to our activist work, and then nn* kind of stopped giving the entertaining content. Which actually made us lose followers."
"Holding a safer space for our community is really what we're about. Local LBGTQI* organizations like Colored Qollective and Prisma Groep, or the QT and Spoons meetings are all focused on mental health and life support - a common practice for the queer community. Most queer organisations are insular, trying to keep the space as safe as possible by staying with each other. niet normaal* are different in the sense that we don't host a support group, but go on the streets to fight for more space."
Marianna: "Same case goes for our party. Otherwise we wouldn't organise it at EKKO: if we wanted to be insular, we would do it somewhere else. For us, it's always about this negotiation between what is considered mainstream and what can be contaminated by us. We don't just stay in our space, excluding everyone that potentially cannot follow the rules, or who isn't one of us. It's a big juggle to keep the gate closed for the wrong people and at the same time making it more porous for more right people in need of community to come in."
Ying: "In the past year, our existing relationships have become more visible. In the sense that… the pride demo last year was specifically against police violence. It was held in honour of Stonewall Riots, commemorating and celebrating our queer and trans ancestors like Marsha P. Johnson and Sylvia Rivera. Not every member of the newer generation knows them. We also felt that it's our responsibility - now that we're a bit older, haha - to transfer that memory from us to younger activists."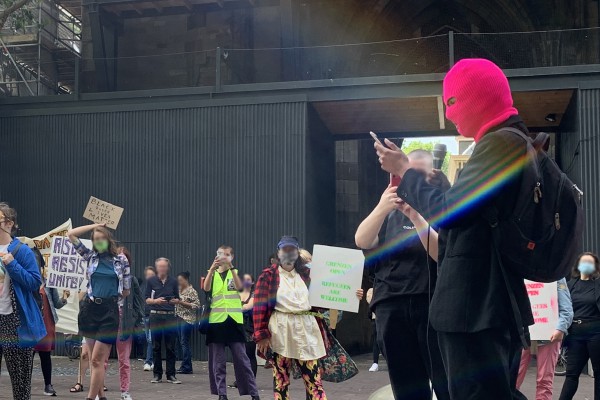 So now that there's an actual physical space with walls, a door and some windows, what are niet normaal* planning to do with it in the near future?
Ying: "I'm so excited for this to happen! nn* will become users of this space in Moira. They're an old legalized squat, so now Moira's like a living group with forty-ish households inside this building. Downstairs they have the music room, where they host concerts, performances, do yoga, et cetera. The ground floor, this room we're in now, used to be an exposition space, but they stopped their collaboration with the curator and offered me to take over. It's all volunteer-run, they have no subsidy policy even. You know, some residents still come from the squat scene and the board has some principles here!"
"We don't want to keep the white cube expo space, but will actively try to make this a collectively run space that hosts different kinds of gathering. As nn*, we will set up the infrastructure for this space as new users. We want to build a zine library, become a distro point and buy a printer to start self-publishing . There's space for different kind of meetings, whether it's hanging out, reading zines, making copies or hosting small screenings."
"I really miss this collective musical moment and I'm glad we can plan it at EKKO and our own space again in the future. Even Madonna and Britney Spears... man, I even miss the gay bars."
Ying: "We will open once a week with the library and a small program. Right now, we want to do skill-sharing workshops. So once the clubs will reopen, we will of course host a party, but also planning for a dj workshop, printing workshops for silk screen and lino cut and crafting like sewing and knitting. All kind of stuff!"
Marianna: "It's open to whatever our people actually want to do at that moment."
Ying: "Then the space is also open for communities that are close to us to do their own things. I think there's no collectively run space that's led by queer and migrant people around here.."
Marianna: "This means that if you have access to other resources, you can go organise elsewhere."
So what is gonna be their first programming idea as a non-music minded collective?
Marianna: "Being the Non-Party Party!"
Ying: "You must be confused that we don't talk about music now, haha!"
Marianna: "Well, I have something. The other day we saw this performance at Casco, since I work there. It was a performance of a collective experimenting with cumbia And I was there crying my eyes out, because I haven't seen a performance in such a long time. I was like "thank you so much!". The heartbreaking music they played was also a bit to blame. I really miss this collective musical moment and I'm glad we can plan it at EKKO and our own space again in the future. Even Madonna and Britney Spears... man, I even miss the gay bars. I miss all kinds of music!"
niet normaal* will host a Pride Demo at Moreelse Park next friday, June 25th. This year, the collective takes to the streets in solidarity with their queer and trans kin living in limbo in the asylum system, locked up in refugee camps. nn* call on their communities to come out and join in solidarity and the fight to abolish all the structures that exploit and dehumanize their migrant and refugee kin.
In Community Catch Up, we get in touch with frequent collaborators, befriended collectives or musical friends that often use our building for their creative ideas and events. How did a partnership with EKKO over the years? How are they holding up, since their parties and events are still on hold for a while? What are their plans for the near and the upcoming roaring twenties episode II? Read all about it here!